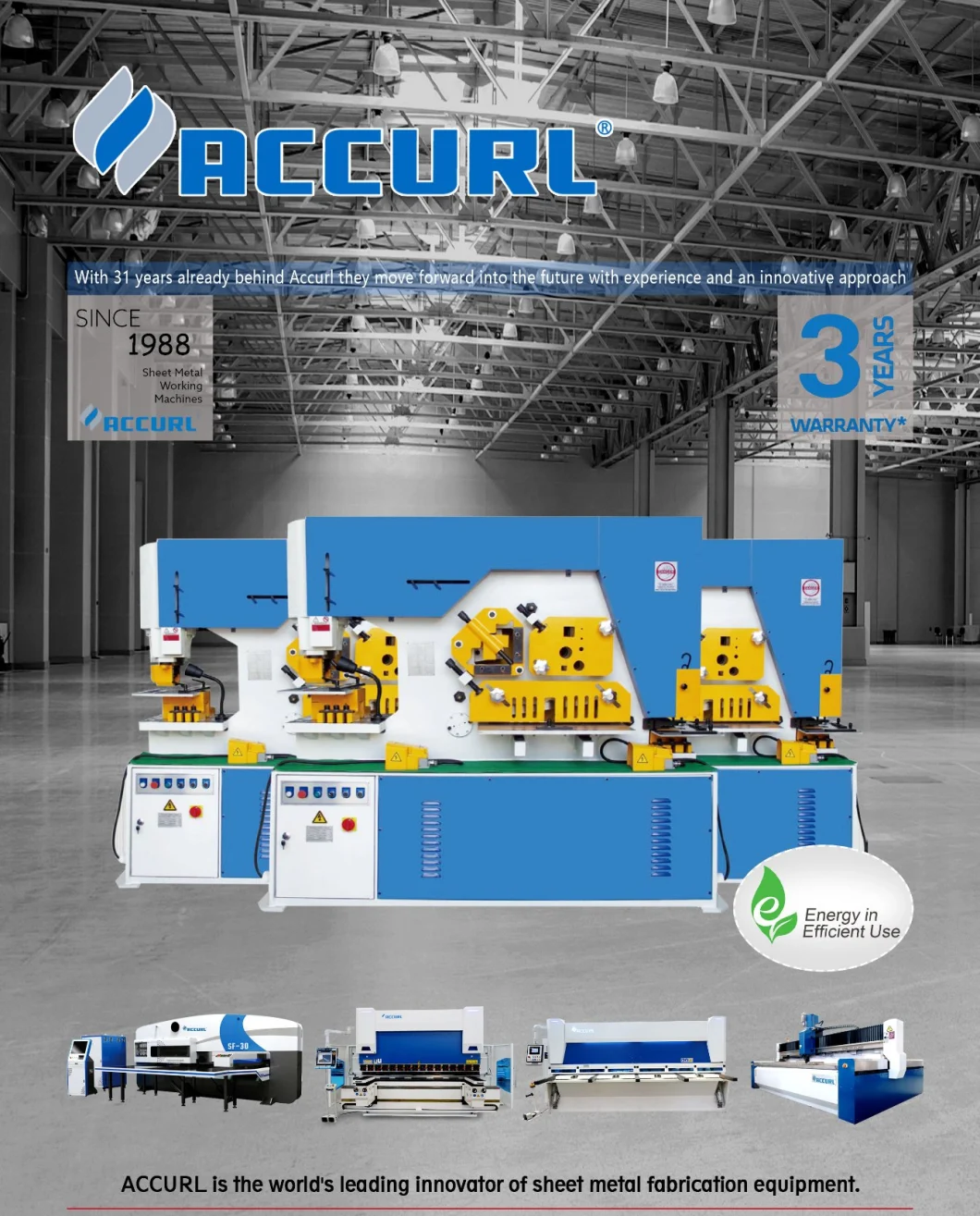 Hydraulic ironworker IW Series
Accurl Hydraulic Ironworkers are designed with multiple functions to save labor, time, energy and cost. This allows Accurl Ironworkers to meet the diversified needs of the metal fabricating industry. Maximum efficiency and long life is guaranteed by using the latest manufacturing methods, including powerful CAD design, modern production line with CNC equipment and continuous quality control.
WORK STATIONS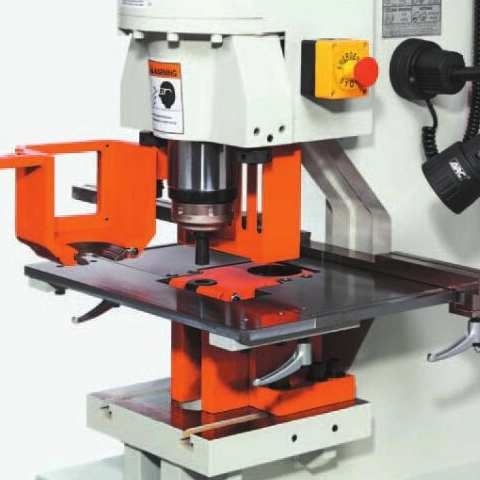 Punching Station
1. A full range of punches and dies are available for various punching needs.

2. Quick change retaining nut system for fast punch
tooling change.

3. Thoughtfully designed stripper for visibility, safety and ease of use.
4. A large 2-piece table with scales and gauging stops is standard on all models.
5. Stripper with interchangeable plates of various openings to minimize deformation is standard on all models.
Angle Shearing Station

1. Single shear with no material loss and minimal deformation.

2. 45° miter-cut is easy and clean.

3. Stationary blades with four usable cutting edges.

4. Selectable corner radii on moving blades for optimum results on small or large angles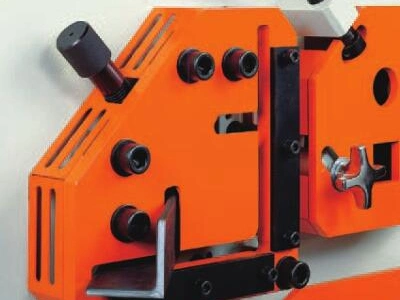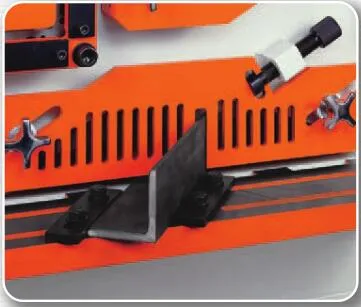 Angle Shearing Station
1. Specially machined upper blade to give a clean shear with minimum distortion.

2. Lower blade has four usable cutting edges.

3.
Variable degree miter-cutting on angle flange.

4. Easily adjustable hold-down.

5. Support table with guides for accurate
positioning.
Bar Shearing Station
1. One hold-down for various sizes of square bar shearing and round bar shearing.

2. Optional channel and section bar shear
tooling is available for most models. (See specification chart for details)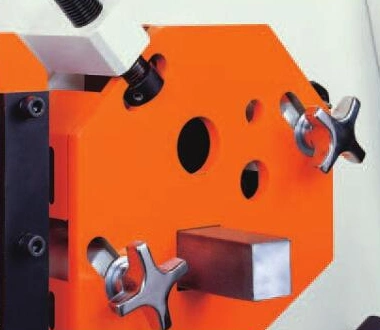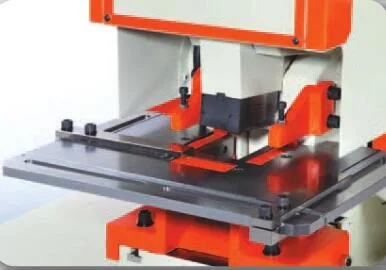 Notching Station
1. Ideal for notching of flat bars and angles.

2. Electrically interlocked safety guard for maximum safety and visibility.

3.
Gauging table included with stops for precise positioning.
PUNCHING MODEL
IW-60S
IW-60SD
IW-80S
IW-80SD
IW-100S
IW-100SD
IW-125S
IW-125SD

IW-165SD

Punching Force

60 Ton
80 Ton
100 Ton
125 Ton
165 Ton

Punch Capacity S

ø22 x 20

ø26 x 22

ø28 x 26

ø33 x 27

ø37 x 32

Punch Capacity SD

ø50 x 9

ø50 x 12

ø50 x 15

ø50 x 18

ø50 x 24

Throat Depth S

310
310
310
310
- - -

Throat Depth SD

510
510
510
510
510

Maximum Stroke Length

100
100
100
100
100

Cycles / Min. (20mm stroke)

30
29
28
28
29